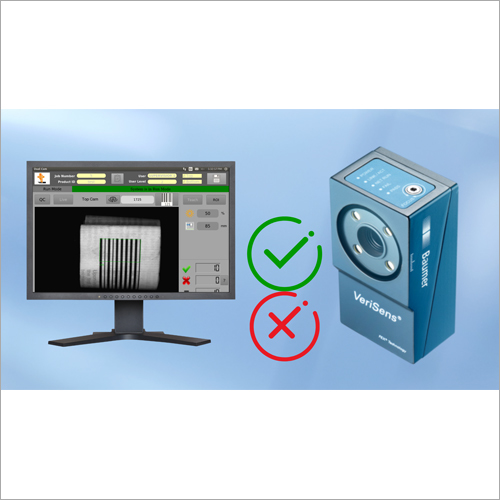 Product Specifications
INSPECTION SYSTEM

Industrial
Product Description
Two smart cameras from Baumer, Germany are the key components of this system. In the system, Pharma leaflets/inserts/outserts are verified for correctness. The cameras are attached to a leaflet folding machine. With one camera, the leaflet is checked on the upper surface, and with the other, the leaflet is checked on the lower surface while it is being folded.
The cameras have a high level of intelligence. They are able to read and verify the following:
i) The presence of a blank sheet or print
ii) Online Character Recognition (OCR) and Online Character Verification (OCV)
iii) 1D barcodes, which include pharmacodes, with verification of their value, to prevent mixups
(iv) 2D barcodes, including QR codes and Data matrix codes with their respective verification

So, this system can be used for all types of leaflets, whether there are barcodes or not.
System Description:
There are two smart cameras, encoders, sensors, and a touch screen display in this system. The user can easily set the parameters of the job and view the live images captured by the cameras. The cameras are mounted on the machine in such a way that they can be moved horizontally and that vertical adjustment of the cameras or sensors is minimized. The system has an intuitive user interface. There are currently two versions.
Basic Version: With this system, you can match patterns
Advanced Version: Pattern matching, reading and verifying 1D codes such as barcodes and pharmacodes as well as 2D codes such as data matrix and QR codes are all available with this system.
Key Features:
As part of every job, we provide pharma-compliant job reports covering the number of leaflets accepted, number of leaflets rejected, overall leaflet count, and other relevant information.
Our cameras are equipped with very advanced software for image processing
Additionally, we provide an output sensor that counts the total number of sheets fed to the machine and those received in the delivery (to reduce wastage).
Action against defect:
Machine Stop: Any defective leaflet that passes through one of the two cameras generates a "Machine stop" signal. Operators must take action to remove defective sheet. Screens display the defective images.
Ejection: The Ejection mechanism on the machine enables the ejection of the defective sheet without stopping the machine.
System for leaflets: - (For Folding & Label Application machine)

Product Type: Inspection system for printing as well as packaging process

Material: Cameras, controllers, encoders, processors, sensor etc.

Power: 220 V

Certification: CE

Temperature: Max 60 Degrees C

Size- 1.5ft x 2 ft

Colour: Grey / Black

Function:

Checking online folding machines & other printing machines. Examining proper sheets in the pharmaceutical industry.

Usage: Printing / Pharma / Packaging.

Product Type: Inspection System

Warranty: One-year Terms & conditions apply
Enter Buying Requirement Details
Other Products in 'Inspection System' category